Every year, thousands of students from around the world travel to Australia to further their education.
If you are intending to study in Australia for longer than 3 months, you must first apply for an Australian student visa.
You are not allowed to travel to Australia if you plan to study for more than 3 months without the appropriate student visa!
Please contact us for costs involved with an Australian student visa.
---
Australian Student Visa Requirements
In order to obtain the correct visa to study in Australia, you must be fully enrolled in an Australian institution and have received a Confirmation of Enrolment (COE). This will be issued by the Australian institution you will be attending - usually issued after the tuition fees have been received.
In addition to requiring your confirmation of enrolment, you will require Overseas Student Health Cover (OSHC). OSHC is compulsory and you will not be able to apply for your Australian student visa until you have purchased a policy that is recommended by your host university. For more information on (OSHC) please visit medibank.com.au.
Additionally, all applicants are required to meet specific health, financial and character requirements as part of the application process.
Once we have received your student visa application and all requested information, it can take up to 10 days to process.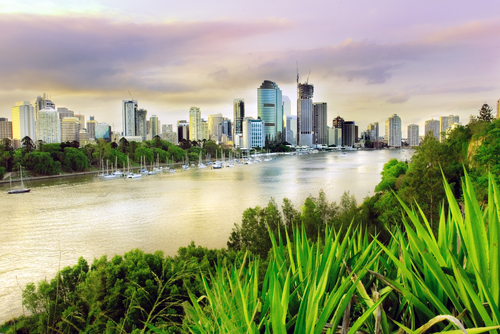 What do I need to apply for my Australian student visa?
Downloadable Form
Visa Application Fee
Confirmation of Enrolment Form (COE)

Your host university will issue this once the application has been accepted and your tuition fees have been paid in full.

An acceptance letter from your host university in Australia.

This will need to include the proposed study plan.

Letter

From your current institution confirming status as a Study Abroad Student.

Overseas Health Insurance Receipt

Issued when OSHC has been paid.

Passport
2 Passport Sized Photographs
What does the visa let me do?
An Australian student visa allows you to study in Australia for the period of your course, as well as take family members with you to accompany your stay in Australia. You will have to declare on your application that you are able to financially support yourself and any family members for the duration of your stay.
These expenses include travel costs, tuition fees and living expenses. To find out more information, please see our financial requirments page.
This type of visa also allows your spouse to study for up to 3 months; however, if your spouse wants to study for more than 3 months they must apply for their own student visa - this can be done from inside Australia.
Can I work on this visa?
You will be automatically granted permission to work if your student visa is approved, though there will be restrictions on the number of hours you will be allowed to work in a week.
As an international student, you are permitted to work a maximum of 20 hours per week during term time - these restrictions are lifted during holidays.
Family members are also permitted to work; however, they are not able to work until the student begins their course.
Australian Student Visa Application
At Australian Travel Visas, we have dedicated staff trained in arranging all aspects of Australian student visas. We can arrange all the paperwork and deal with the Australian Government on your behalf. If you have any questions or concerns please contact us to discuss this with one of our Australia student visa specialists.
* We strongly advise that you do not book your flights until your visa has been confirmed.
---
Contact Us
Telephone consultations by requirements
For more information or to send us a message please
---
Australian Student Visa
Character Requirements | Financial Requirements | Health Requirements
---