Many individuals move to Australia every year for its warm climate, beautiful sunny shores and relaxed lifestyle. Whatever your purpose for migrating, we aim to provide a professional service to help you throughout the application process.
At Australian Travel Visas, we have a dedicated team who deal with Australian migration applications. They will arrange all the paperwork and deal with the Australian Government on your behalf; whilst keeping you updated along the way.
This methodology frees your time up, so you can concentrate on making the other essential arrangements for your move to Australia.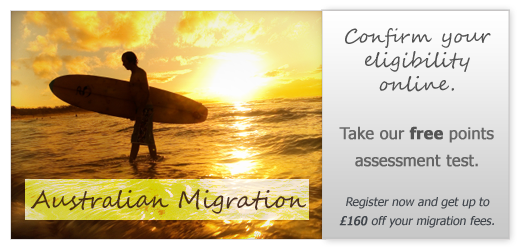 ---
Assessing Your Eligibility
Eligibility is initially assessed on a points system. Points are awarded in various categories including: age, English language ability and specific work experience.
In addition, you should have the capacity to meet the basic criteria of being between the ages of 18 – 49, having recent work experience in your named occupation, and be of good health and character.
Skills Assessment
The following phase of the process for your Australian migration application is to have your skills evaluated by the relevant authority. You will be obliged to provide evidence of your qualifications and work experience and these will be assessed against your designated occupation. As your selected operator, we will identify the correct assessing authority for your occupation, check and submit your application and handle any queries which may arise.
Migration Application
When you have successfully completed your skills assessment for your Australian skilled migration visa, you will be ready to proceed on to the migration application stage. We will provide you with and help you to prepare your application form, and then submit it for you. Once submitted, we will issue you with a list of documents required to support your application. Once more, we will deal with any queries which may emerge.
There are various changes taking place within the skilled migration system at the moment.
Qualified applicants will be invited to register with us before progressing to the next stage. Our registration fee is € 75.00
---
Note: Not everyone is eligible to apply for a general skilled migration visa. The Australian Government has strict legislation to control migration to Australia. All visas are issued at the discretion of the Australian Government.
---
Contact Us
Telephone consultations by requirements
For more information or to send us a message please